I was lucky enough this week to have a spare few hours, so I ran away to Yosemite national park to play in the snow.
Prep-work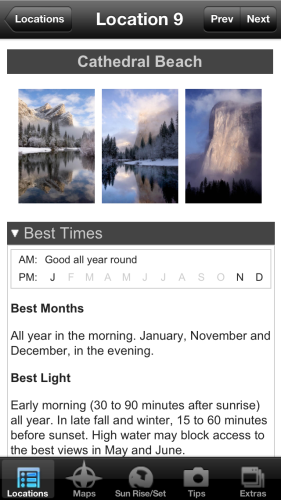 Check the weather forecast. Perfect. Big blue sky, little cloud, and shockingly low temperatures.
Check the moon phase. Perfect. 20% waning crescent from 2pm to 7am.
Check sunset / sunrise times. 5:30pm and 7pm roughly. Nice and reasonable.
Check locations. Facebook friends turned me on to a perfect app for photographers in Yosemite. It tells you what to look out for and where to be at various times of the day and year. I can't recommend it enough. Click here to get Michael Frye's Photographers Guide to Yosemite. It'll be the best $5 you spend today.
Check battery charges, filter cleanliness, memory cards. Check. Check. And Check.
11AM Departure.
And we're on our way to all the snow you can ever want. On a school day too. Insert big grin here.
3pm Arrival.
Where the hell is all the snow? Thank the gods that climate change is all just a hoax! This place is so hot I had to change in to a t-shirt and roll down all the windows on the Jeep. Had I had more time, I'd have taken the roof off. This is ridiculous and very disappointing.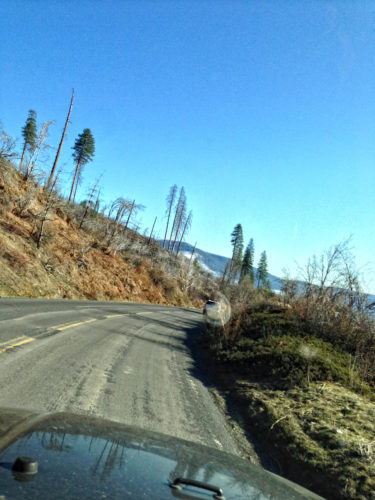 4pm Scouting.
Having run around the valley floor, checking out locations and road closures I take a few moments to play by the river. The afternoon sun is stunning.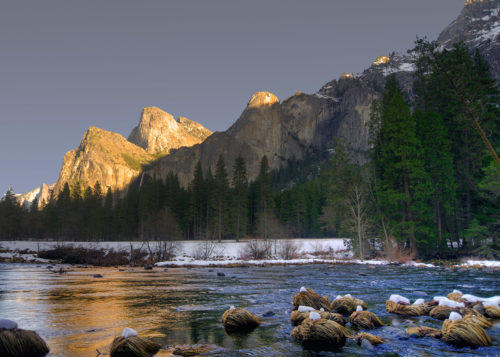 5:30pm Sunset.
One of the main reasons I came to the park is to capture the most fantastic of all star trail shots. I wanted to capture a perfect sky reflected in Mirror Lake. I've never seen it done, which means that it's either impossible or I'm just the first to think of it.
At this time of the year the roads to Mirror Lake are closed to cars, so a sweaty 40 min hike is called for to traverse the 2 miles to reflected glory. I time it just right, getting there in time to set up and watch one of the more spectacular sunsets.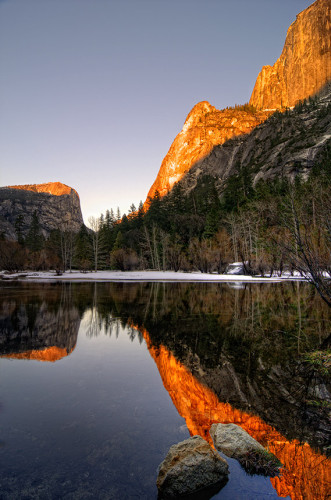 I carefully adjust the camera for the impending star show. Checking everything twice and then checking it one more time. The timer is set to start taking picture 2 1/2 hours after sunset. I figure with my max battery life being 4 hours, factor in the cold, I should get 3 1/2 hours of images. The math on that has me finishing the picture at midnight.
The light is fading fast as I start the hike back to the car. I pass signs warning of Mountain Lions and Brown Bears. The forest cracks and creaks around me. I'm really not looking forward to walking this path again at midnight. Twice. Alone.
7pm Dinner.
It is with huge relief that I 'discover' the bar in the Yosemite Lodge. It's a cozy place with a roaring fire, old movies on the TV, free, very fast WiFi, all sorts of beer and BBQ.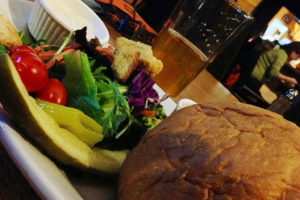 Under normal circumstances I'd be in heaven. But I can't shake the feeling that while I'm sitting here drinking beer there's $4000 worth of camera equipment standing in a field all alone waiting to be pinched. I console myself that no one knows where it is. Except for a few people on Facebook. Damn. You can't trust that Rick guy. Can he get here quick enough to make off with my camera?
The thermometer outside the hotel says it's 17 Fahrenheit. That's -8 Celsius. I wonder if I'll die? I'll probably die.
9pm and a Movie.
Technology really is incredible. I pull the Jeep in to the trail head parking lot, connect the iPad to the BlueTooth radio, and sit back for 3 hours of hi-def movie in glorious, chest thumping surround sound. Amazing.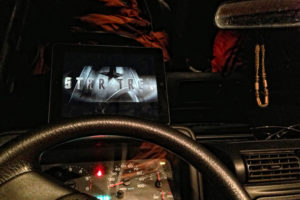 12pm Stars Everywhere.
I arrive at the spot where I left my gear and look around. For fully 20 seconds I just stand and stare. My mind is blank. I simply can't understand what I'm looking at. There's nothing here. No camera. No tripod. No nothing.
Fuck.
Cop: when did you last see you camera sir?

Me: Oh I just left it in the middle of a field and went to get dinner and a movie…
This is not going to end well. Also, that rock is new: it wasn't there before. Hmmm, that tree seems to be new too. Ah. Ever notice how lots of places look the same in the dark? Walking another 30 meters I finally see my camera standing exactly where I'd left it. It gives a reassuring beep as I approach.
As I pack it away, it beeps again. That's odd. I'd set the timer to take 5 minute images, so it should only beep once every 5 minutes. Why is it beeping every 15 seconds?
Crap! I forgot to set the shooting mode after I took sunset. A chap I sometimes shoot with has this little laminated piece of paper with the 10 things you need to check before walking away when shooting stars. I always tease him about it. It's so childish and, well crap.
I'm off to Kinkos when I get back to laminate me some paper!
So, here's the shot that never was. My lame,aborted, screwed up attempt at stars in Mirror Lake.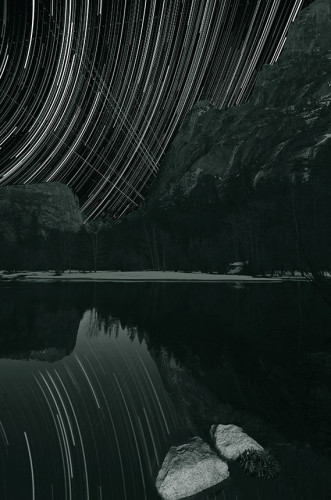 1am Sleep.
I park at Tunnel View, point my camera at the valley, guess at the focus, and set it running. This won't work. Guessing focus never works, but what else can I do until sunrise?
I set the alarm for 4:30am so I can change the battery. Watch the end of the movie. And finally fall asleep in my car.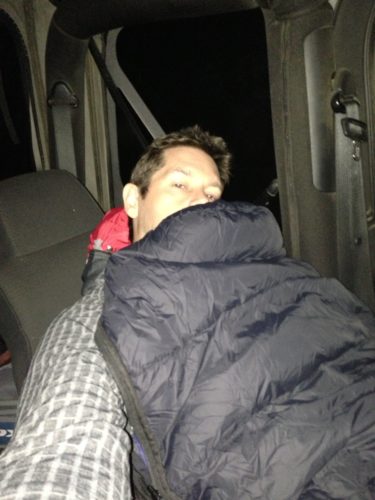 4:30am Up and About.
There's nothing to see but cars are beginning to turn up. Photographers in big coats are walking around look serious. The sky truly is magnificent. Now if only my camera were in focus.
7am Sun Up!
Finally it's beginning to get warmer. I scramble over frozen snow to get to the river's edge to capture the sun's first light as it hits El Capitan. This makes it all worth while. Even if my star shots are trashed.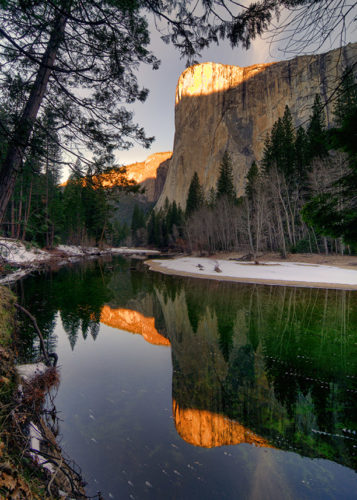 I've no intention of capturing the waterfalls on this trip – there's simply not enough water in them to make an impression. But as I'm driving past Upper Yosemite Falls it starts to glow. I stop the car. Take two steps out of it. Stand next to the big sign saying "tourists stand here for nice photo" and grab a snap.
I'm lazy. So shoot me.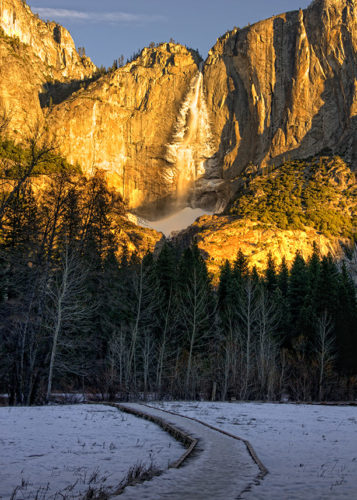 One more quick shot and it's time to leave. The river is like glass – it's a tad boring so I hurl rocks at it until it agrees to get interesting.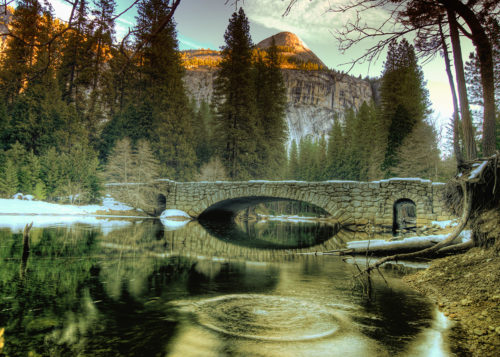 9am The Coming Storm.
The rangers tell me that I'm leaving at the right moment. There's a storm coming they say. And it's going to be bad.
I believe them.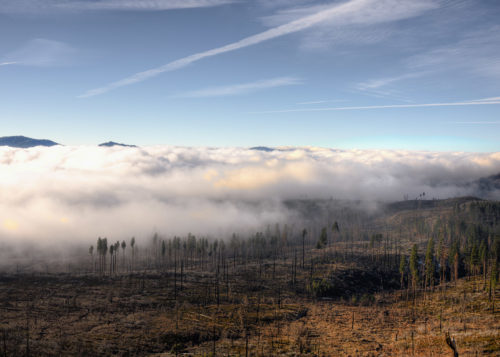 10AM Storm.
It arrives faster than they predicted. I'm barely out of the park and the fog is so thick I have to stop and take a picture of it.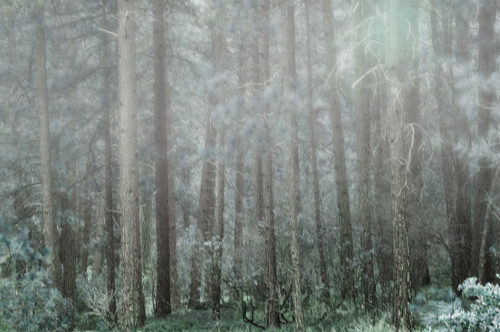 12pm Bored.
I'm bored and tired. The journey home is taking forever. The weather is terrible and the traffic is horrible. I do what any sensible person would do. I stop my car on the side of the road and spend 20 minutes practicing my panning technique. Here's two that worked nicely.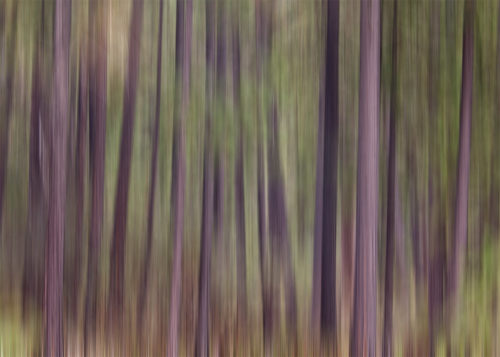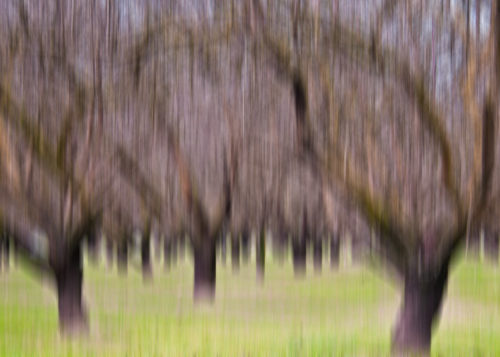 2pm Home.
And that's it. Yosemite in 24 hours. If you've never been, shame on you. If you have, you should go again. It's a magical place full of fairies and unicorns.
And bears that break in to cars.