TL;DR; We went for a walk. It was very nice.
For 3 years we've been talking about hiking in Torres del Paine, with the sole purpose of capturing 'that pic'. The reasons for not going sooner have been various but were led by the simple fact that we were intimidated by the idea of spending 12 days in a country where we don't speak the language, have no support, and have to rely on whatever we can cram in to a backpacks for survival. Turns out we were unduly concerned. Torres del Paine is just a walk in the park. At least, the way we did it, it was.
There are 3 types of people that will read this blog: photographers (it is a photo website after all), potential hikers, and of course, friends and family tuning in to find out if we made it safely home (spoiler, we did). For that reason, a good portion of this story will contain way too much detail for a good portion of you. Sorry. Can't be helped.
Torres del Paine is a national park in Patagonia, a region of both Chile and Argentina. The center piece of the park, both figuratively and literally is the Cordillera del Paine, a large lump of rock that rises out of the valley floor and looks very, well, photogenic.  The difficult aspect is that you can only really visit during 6 weeks of the year because the weather is so extreme. Even during these 6 weeks, it's not uncommon to experience 80 mile per hour winds.
There are 2 main hikes at the Cordillera; you can go around it, known as 'The Circuit", or you can bounce around the southern edge, known as "the W". Real hikers do the circuit. You carry all your food, tent, etc and walk unaided in a big circle for anywhere from the insanely ambitious 5, to a more normal 12 days. It's a big deal. And this is what intimidated us for 3 years.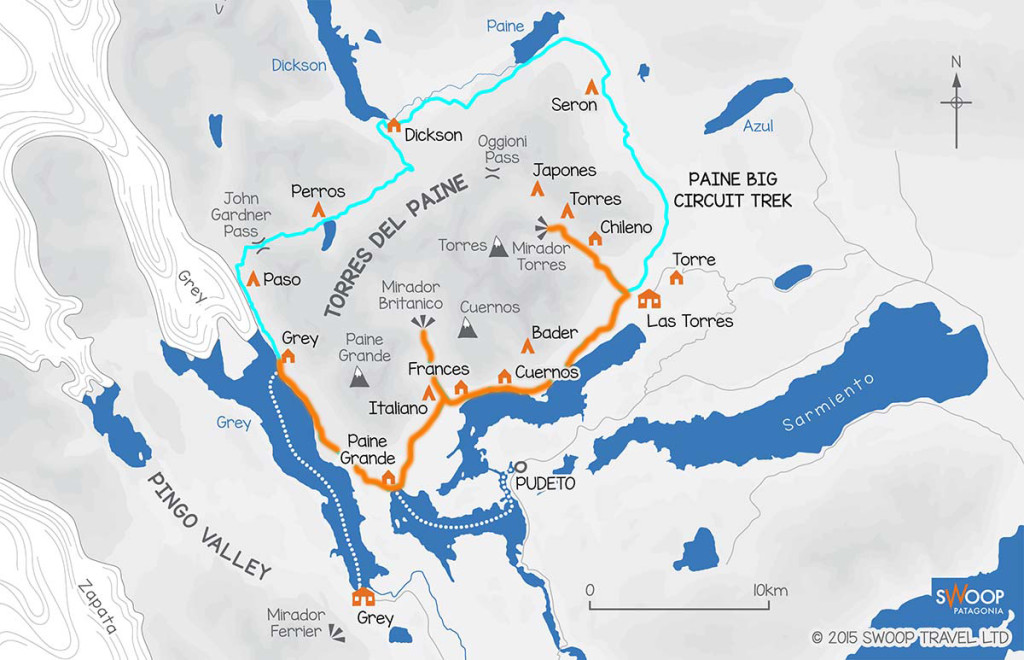 For the W, you can certainly do it the hard way, carrying all your food and shelter, or you can rely on hostels, known as refugios, to provide everything from a hot meal, to a tent, or even a bed in a shared bunk room. It was this latter, easy option that finally got us on a plane to Chile.
To make our life even easier, we outsourced all logistics to a British company called Swoop (whose map we're using above), who in turn partner with a Chilean company called Dittmar. The ground support that we received from Dittmar was superb and more than justified the cost. They booked all the refugios, they booked buses, hotels, provided a packed lunch upon arrival, but more importantly, they planned the daily walks so that we could have the maximum time in the most photogenic locations. We did the W in 7 days. It's really only a 5 day hike but we dragged it out to ensure we had all the opportunities we needed to get the shot.
For those keen to know what was in our packs:
Olympus Touch point and shoot camera (most of the below photos are from this)
Nikon 1 camera with 10-100mm lens
Nikon D750 camera
Nikon 14-24mm lens
Nikon 50mm lens
Speedlite flash
Remote trigger
Timed trigger
ReallyRightStuff TVC-34L Tripod
Batteries, memory cards, flash diffuser, etc
And other non-essential stuff like clothing, lights, and snacks.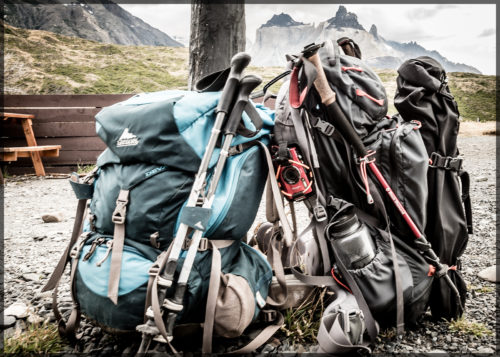 Generally the sun will rise at 6:30am, set again at 9:30pm. The Milky Way will be directly overhead at 2am and there'll be no moon until day 3 when it will rise at 3am, and then ½ an hour later every day after that.
Day Minus 3
It takes a lot of effort to get to Patagonia. Today the plan is that we take a short cab ride to our local airport, fly to Salt Lake, then fly to Houston, then Santiago, then Punta Arenas. Then take a bus to Puerto Natales, spend the night in a hotel, then take a bus to Patagonia. Phew!
Everything starts out badly when the local airport announces that because we're the only 2 passengers on the Salt Lake flight, they've canceled it. They put us on a bus in rush hour, for the 1 hour journey up to San Francisco to get a direct flight to Houston. We make the 4 hour flight with barely seconds to spare, but this is actually a great start to the trip – one less flight means one less chance of our luggage getting lost.
The layover in Houston is 3 hours which gives us plenty of time to be reminded that the city really does have the best food in America. And then it's off to Santiago on a nice 9 hour flight.
Day Minus 2
Arriving in Santiago is a nightmare of bodies. The immigration hall will clearly take hours to negotiate, when suddenly a nice man pops up and directs us to the domestic line. There is no line. We walk straight through and are in Chile in less than 5 minutes. It feels very wrong but we grab our packs and make our way out of the terminal.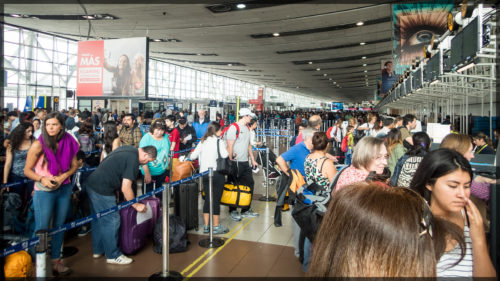 At this point another nice man pops up and suggests he can help us transfer to our internal flight. He grabs our boarding passes and disappears with great speed in to the very large crowd. Beginning to panic we make our way after him, only to find he's waiting for us at an elevator. We head up to the checkin floor and are horrified by the lines. It looks like a crowd waiting for a football match to start. Our nice pal marches us up to the front of the line and demands we get served. He's told no. He does this several times, repeatedly trying to push us to the front of the multi-thousand people lines. Eventually, one of the attendants agrees and we're checked in. A process that is taking everyone else several hours takes us 10 minutes. It's then that helpful boy explains that he doesn't work for the airport and he'd like some money please. Best $5 we've spent!
We only had 90 mins to transfer to the next flight and we made it in 80. Bingo! And then they delay the flight by 2 hours which means we're going to miss our bus connection in Punta Arenas. And this is where ground support comes in. One quick call to Julie at Ditmar and 10 minutes later we have new tickets to a later bus. Travel made easy.
The 3 hour flight is uneventful and after only an hour of waiting we hop on a luxury, air-conditioned coach for the 5 hour ride to Puerto Natales. There is nothing, absolutely nothing to see out of the window, so most of our fellow passengers start snoring loudly. It's hammering down with rain when we arrive and not knowing where we're going we jump in a taxi. 2 minutes later we're stood outside a lovely little B&B called Big Bang Patagonia.
The rain is getting worse, and even though it's 11 o'clock at night and the sun is long gone, it's still bright out so we head downtown to a bar. Only we don't. We can't find any. After an hour of walking in the rain we settle on a local hole-in-the-wall and eat terrible food. The two things we learned this evening are that ceviche is not supposed to be served transparent and that Andy's waterproofs aren't.
Day Minus 1
After 2 days of traveling it was so nice to lie in this morning. We have nothing to do until tomorrow when we enter the park. By design today is the 'padding day', a day added to our travels in case we missed flights, got sick or, as is the case, just needed to rest.
We spend it wandering around town. It's small, poor and very nice.  The town square is a lovely, it has a huge church, lots of little shops, a few restaurants and the only bar in town. Clearly, money is pouring in. There's new construction on roads, pavements, and shops. Strangely, there's very little for the tourist. There's lots of hostels and places to sell you a new waterproof coat, but no souvenir shops, not even a postcard stand.
In the afternoon we meet with Ditmar and receive our refugio vouchers, bus passes and marching orders (literally).
Day 1
Up at first light on to another bus. This one is dirty, smelly and the air-conditioning is the big hole in the roof. The good news is that it's only for two hours. By 10am we're at the park entrance. Chile is new at this national park thing. For years, under the dictatorship of Pinochet they had no such concept, and so now just 20 years in to democracy they're starting to put the frameworks in place. The way this manifests itself is in red-tape. To enter the park you need to queue at window one and swap your voucher for another voucher, filling in a long form while you do so. Then take that to window two where you'll get your voucher stamped and they'll take a copy of your form. Then you go to the viewing room where they make you watch a fire and wildlife safety video. It all makes sense, except there's no gate, so you could just walk in. You're also told that you have to keep the paperwork on you at all times, and that you won't be able to leave the park without presenting documents. Except, see previous comment about lack of gates.
But all that fun aside, we get first sight of the Torres. Superb. We change buses and take the 10 minute ride in to the park, stopping just short of the luxury spa hotel. It really is very nice.
And then the holiday begins. For 2 hours we walk up hill in the baking sun. Our packs seem heavy and our bodies are stiff, but it's good not to be sitting on a bus or a plane for once. The trail is littered with the collapsed bodies of day hikers that weren't expecting an up-hill straight from the bus. There's a backpack-cab service where they'll load your load on to a mule and move it for you. Seems like a great idea but we don't accept the offer.
The walk is nice enough but there's not much to report. The heat is the main thing we remember. Just when we think we should stop for lunch, the Refugio Chileno – our home for 2 nights – makes an appearance. As we later discover, the refugios each have their own personality. This one is day-hiker. It's brimming over with smiling people taking selfies and enjoying a nice day out. Our bunkbed is a triple, which means we're sharing the room with 6 other people. There's just enough room for everyone. It's clean and warm, and the showers are hot.
The toilets in Chile all seem to be organic. Because of that, every one of them has a bin next to it where you put anything that wasn't created by the human body. To paint a picture for you, that means every time you sit on a toilet you sit next to big stinking pile of freshly used toilet paper. The smell is the worst but its surprising how quickly you adapt and don't notice. Honestly.
Checking in to the refugio was a bit of a pain. You'll recall that we took a short cut through immigration in Santiago? Well that resulted in us not having immigration papers. There's a law in Chile that says foreigners don't need to pay sales tax on refugios (and maybe other things) if they can produce the papers. And we can't. So it costs us $44 dollars. This is going to add up!
The refugio has everything we need for 2 days. They'll provide breakfast, a packed lunch, and dinner. They have a little fridge which has gatoraid, coke, beer and snickers bars, all for a reasonable fee. There's usually wi-fi (but it's broken today) and a power strip where you're allowed to charge devices for no longer than 30 minutes at a time.
We sit by the amazing river and eat tuna sandwiches feeling very happy.
And now for the reason we came, the walk to the Torres. We dump most of the weight from our packs and start the 2 ½ hour trek to the top of the glacier carved mountain. The walk is beautiful, crossing many rivers, dipping in and out of forests, and the trail is surrounded by babbling springs and tiny waterfalls.
One of the amazing things about Patagonia is that all the rivers are drinkable. As any hiker knows, the heaviest thing you carry is usually water, but on this trip, you simply don't have to. We carried 1.5 liters between us but never drank more than half of it. Every 20 minutes there's a river from which you can freely drink. It's quite amazing and very sad. When you stop and think about it, isn't this how rivers are supposed to be: life-sustaining? It tastes clean, cold, fresh and fabulous. Someone should bottle it (joking).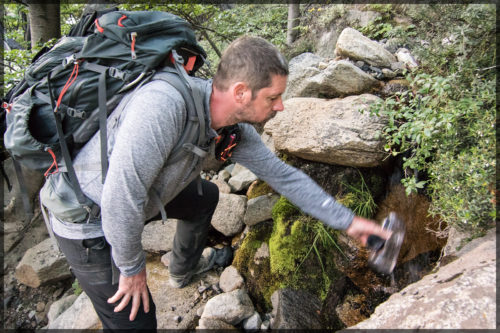 The last 45 minutes of the hike is insane. It's hand over hand climbing over boulders in the baking sun. We're pretty sure that if you weren't carrying tonnes of photo gear it would be easier, but it will never be easy.
Finally we crest the mountain and get to look down on the glacial lake in front of the 3 great Torres. This is why we came and it's magnificent. There's lots of people milling about. Some are doing yoga, some are chanting, most are just taking selfies. And of course there's a string of Tibetan prayer flags.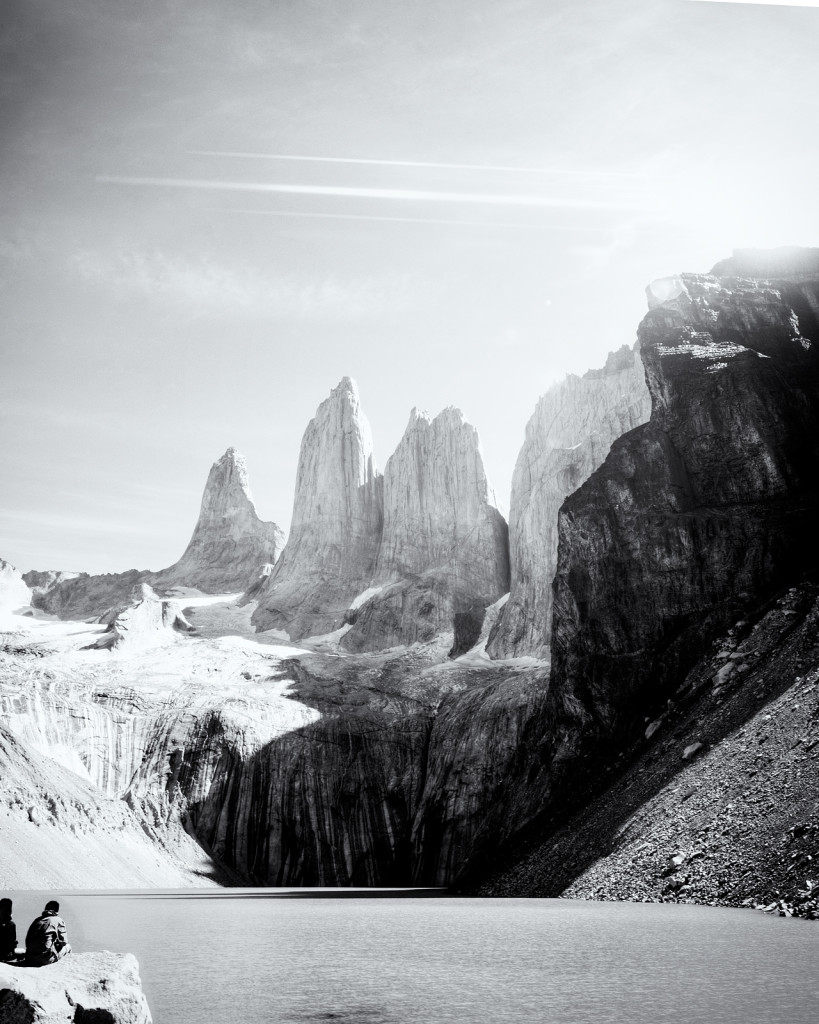 We sit for a while feeling happy then head home for a well deserved beer with grilled chicken spaghetti followed by lemon cake. We go to bed early.
Day 2
The alarm goes off at 3am and by five past we're on the trail heading back up the hill, under the biggest starry sky you could ever imagine. The Milky Way is directly overhead and looks magnificently detailed. Everything seems easier in the dark: there's no visible markers telling you that you've still miles to go; you have the trail to yourself; and the temperature is just perfect.
We arrive at the Torres for the second time, an hour before sunrise. There's a guy sitting on a rock playing a didgeridoo and there's more chanting and generally hippy-ness.
This is the photo we've come for. And as we sit and wait for the mountains to burn we're hopeful that we'll get what we desire. Sunrises are funny things: sometimes they just don't happen. Sometimes it just gets light out. We're hoping for fire in the sky.
And it doesn't disappoint. Color us happy.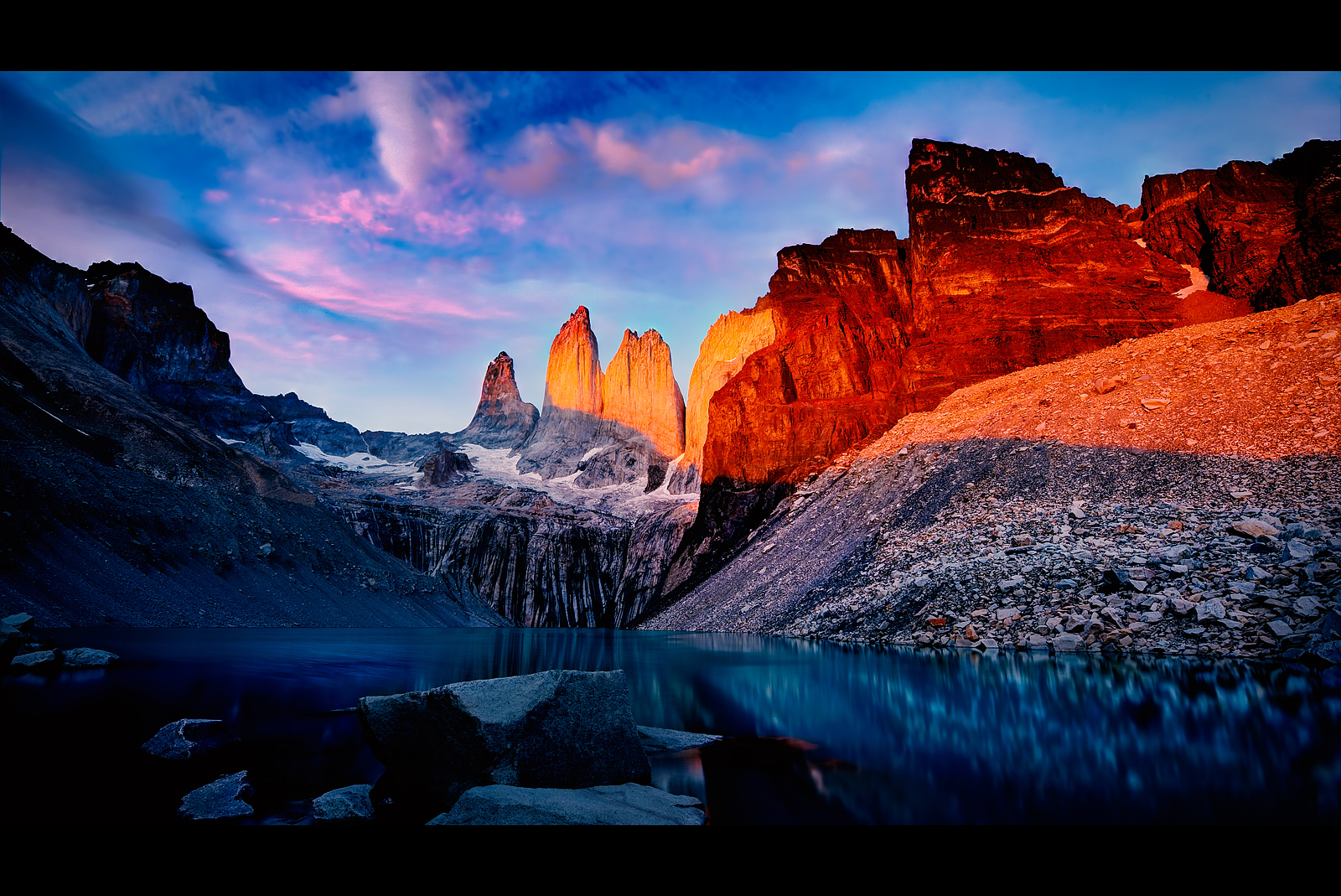 We head home for a hearty breakfast of scrambled eggs and toast. At this point most people are packing up and heading off to the next refugio, but we're not. We booked two nights here just in case the sunrise failed us, and so we have nothing to do today other than to bask in the glory of being outdoors. Which for us means books, poker and beer under a tree. We'd love to have done a few side hikes, but the park has none. The W and the Circuit are it. There are no other paths.
We retire early after a lovely dinner of grilled chicken with mashed potatoes followed by lemon pie. That night we get very little sleep. One of our roommates gets sick and as is the way with shared rooms, no one gets to rest.
Day 3
Today we move to a new refugio. We eat a hearty breakfast of scrambled eggs and toast, shoulder our packs and step outside. Then we go back inside and take off layers. It's stupidly hot. By 9am the temperature has already hit 80.
The walk to Refugio Cuermos is mostly flat and takes a little over 5 hours. We could have done it faster but there's no rush, the temperature is too high for hiking, and there's all those glorious rivers to sit next too while quenching our thirst.
This walk is stunning. We spend the day skirting the base of Cordillera, along the edge of numerous beautiful blue lakes, crossing rope bridges and generally being happy. Hiking is a very friendly activity. Every hiker that passes gives a nice wave and their interpretation of the word "Hola!" After a while we notice that almost 80% of the people we're greeting are woman. And maybe 15% of those are hiking alone. This strikes us as odd, and we can't explain it.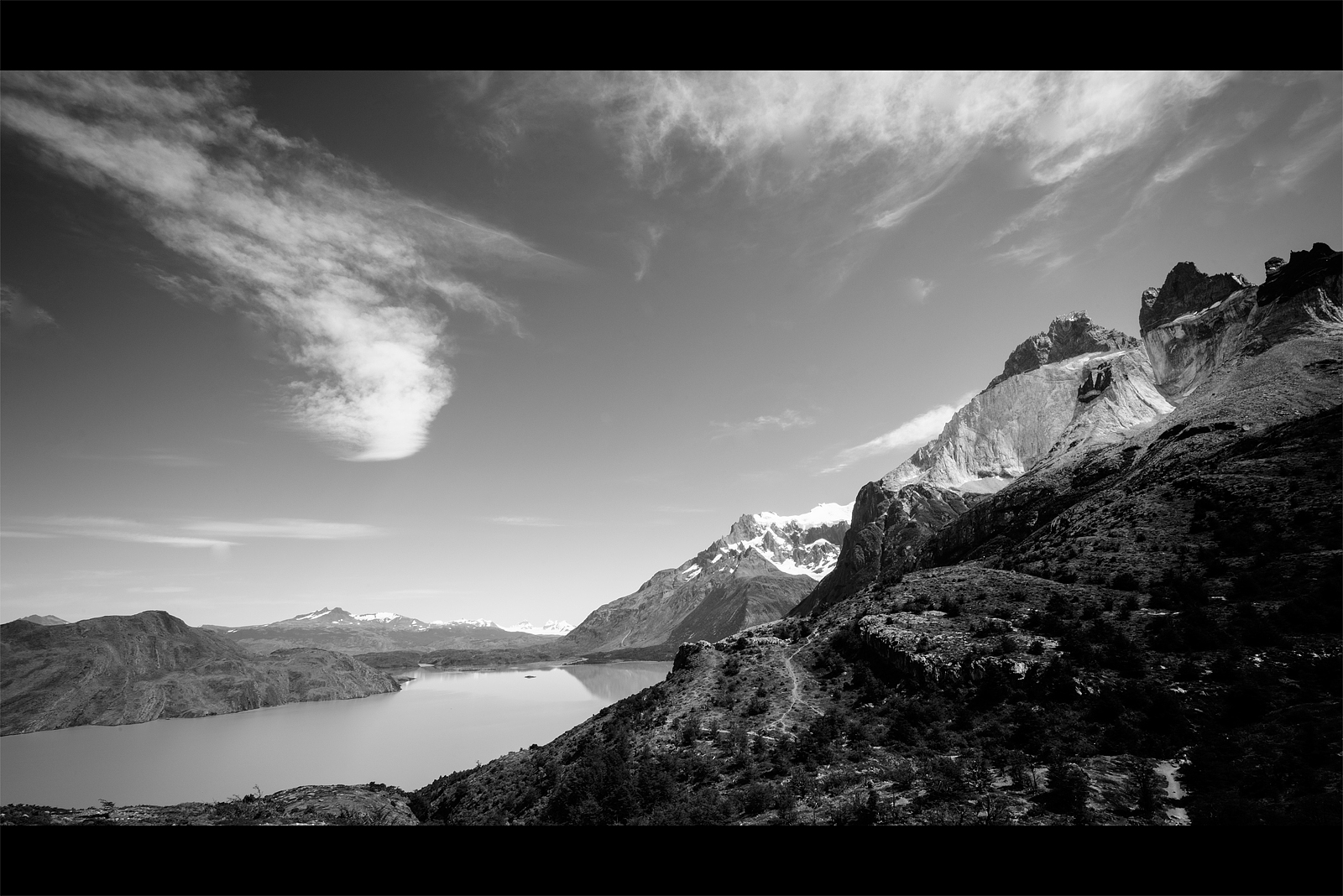 Cuermos is a proper backpackers hostel. And by that I mean it's packed to capacity with shouty, drunk, happy young people all loudly sharing stories of their gap-year exploits. It is quite the scene.  We check in and are once again told that we need to pay a tax due to lack of documentation. We say that we'll do it later, and then never do. There are no charging points but it does have very limited wi-fi if you're prepared to sit on the steps outside the gents loo – we're not.
Dinner is served 7 to 9, so we duly turn up at 7:30 to be told by a very obstinate young man that we've missed dinner and we should have been here at 7. Suddenly a story from the previous night floats back; we were told this would happen. Ten of us stand our ground and eventually we're served grilled chicken with strangely orange mashed potatoes followed by lemon custard. We'll be on time for breakfast.
We spend the evening chatting to people from all over, and very nice they are too. Much to our disappointment we learn that the part of the trail we're to take tomorrow is closed. This will shorten our hike by many hours. Bugger.
Tonight our room sleeps 4 and is so small that we can't get all the backpacks in. We're torn between opening the window to let in the cool night air, and the consequences of having to listen to drunk people talking crap for hours. We sweat it out and the windows remain closed.
Day 4
We breakfast on scrambled eggs and toast overlooking the lake. The sun has been up an hour but the light is still fantastic and the water has turned in to a perfectly still mirror reflecting the stunning mountains.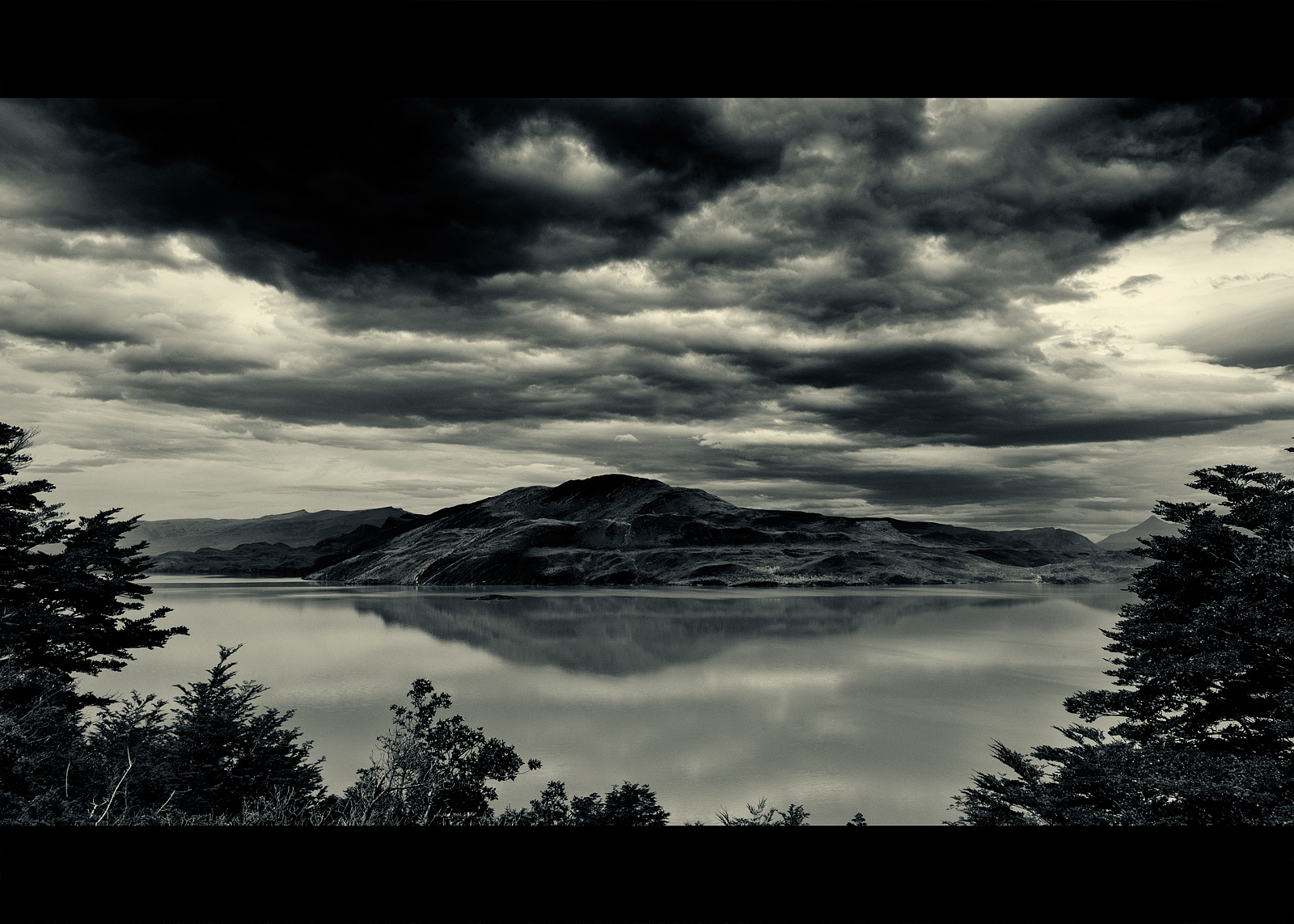 Our first task today is to change refugios while also avoiding our tax bill. The walk to Refugio Frances is just 2 ½ kilometers and includes several splashes along the pebble beach. Hiking in early morning mist is sheer pleasure.
Frances is the nicest refugio we've seen so far. Each 'room' is a separate building housing its own bathroom and attached to a canvas sleeping dome. Each dome sleeps 8, with each bed having its own reading light and power outlets. The wi-fi is fast. This is our version of 5 star! At check-in we once again prepare for the tax dance but the manager doesn't care. He doesn't do 'all those rules'. We can come and go as we please. Eat when we please. And even help ourself to booze out of the fridge (an honor system that we do honor).
We collect our packed lunch, leave our big bags behind and go on a day hike to see the French Valley. A word here on packed lunches. The Chilean people are very proud of their bread. They have dozens of different styles and we tried most of them. Every morning we spied chiefs in the kitchen kneading dough to make the daily sandwiches.  Unfortunately, the sandwiches are a running joke amongst the hikers and there's a long honored tradition that everyone follows. Upon receiving a sandwich you remark loudly about how freakin enormous it is, and comment that it's easily the heaviest thing in your pack. Then you unwrap it, carefully prize it open, and discard the side that the cheese doesn't stick too. Eating open-topped sandwiches on the trail is all the rage.
Twenty minutes after leaving Frances you arrive at Refugio Italian. This is just a camp site, there's no hostel here, but it is where lots of people leave their packs before climbing the mountain. It's quite the zoo.
Today's hike will take us up to the French Glacier, a 4 ½ hour round trip scrambling over rocks the size of small cars, and splashing through waterfalls and rivers. The glacier makes it the coldest day so far but it's perfect for hiking. On arriving at the view point, we eat the enormous half-sandwich and snap selfies. From here the round trip up to Camp Britannica is another 4 hours but the trail is closed so we sit, content to admire the view before heading back down to an awaiting beer.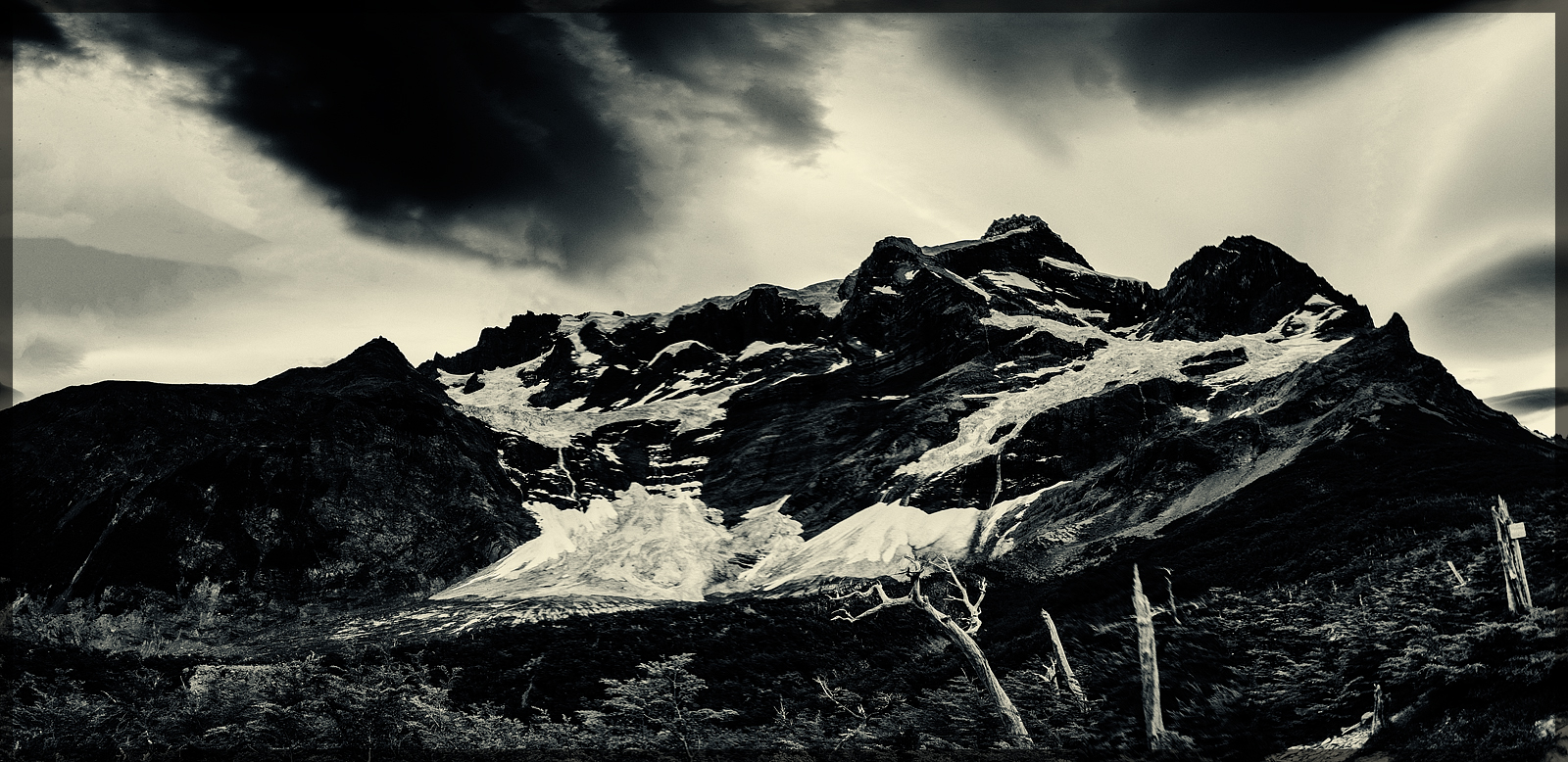 Here's an odd thing about the French Valley. The trees are weird. At the base they're proper tress, but as you gain in altitude they get smaller and smaller. By the time we reach the top of the mountain they are literally only 30cm tall. We've never seen such a thing.
We have a superb dinner of chopped, fried chicken and mashed potatoes followed by lemon pie. As is always the case with dinner, the company is stimulating, and at this point in the hike, there's a group of us who recognize each other enough that it feels like a welcome bar. The new story we learn tonight is that the Camp Britannica trail is not closed, only the campsite is. So tomorrow, we're going back up the mountain to complete our quest.
It's raining by the time we fall asleep.
Day 5
We got no sleep last night. The lady in the bed next to us had a rough night. Vomit everywhere. Poor girl was a mess. We're exhausted at breakfast (scrambled eggs and toast) and decide not to do the additional walk to Camp Britannica. Instead, we plan on moving to Refugio Grande. Some of the refugios are named after the nations of climbers that were the first to summit the various peaks. Refugio Grande is named because it's the big daddy. It's the main park entrance (unless you're doing the walk backwards like we are) and is the place the catamaran deposits all the day hikers.
Once again the hike is stunning. The terrain is more challenging but it's nothing we can't handle. The wind has picked up and is reaching worrying levels. That coupled with the dark sky and the menacing clouds make everything more dramatic than we've seen so far.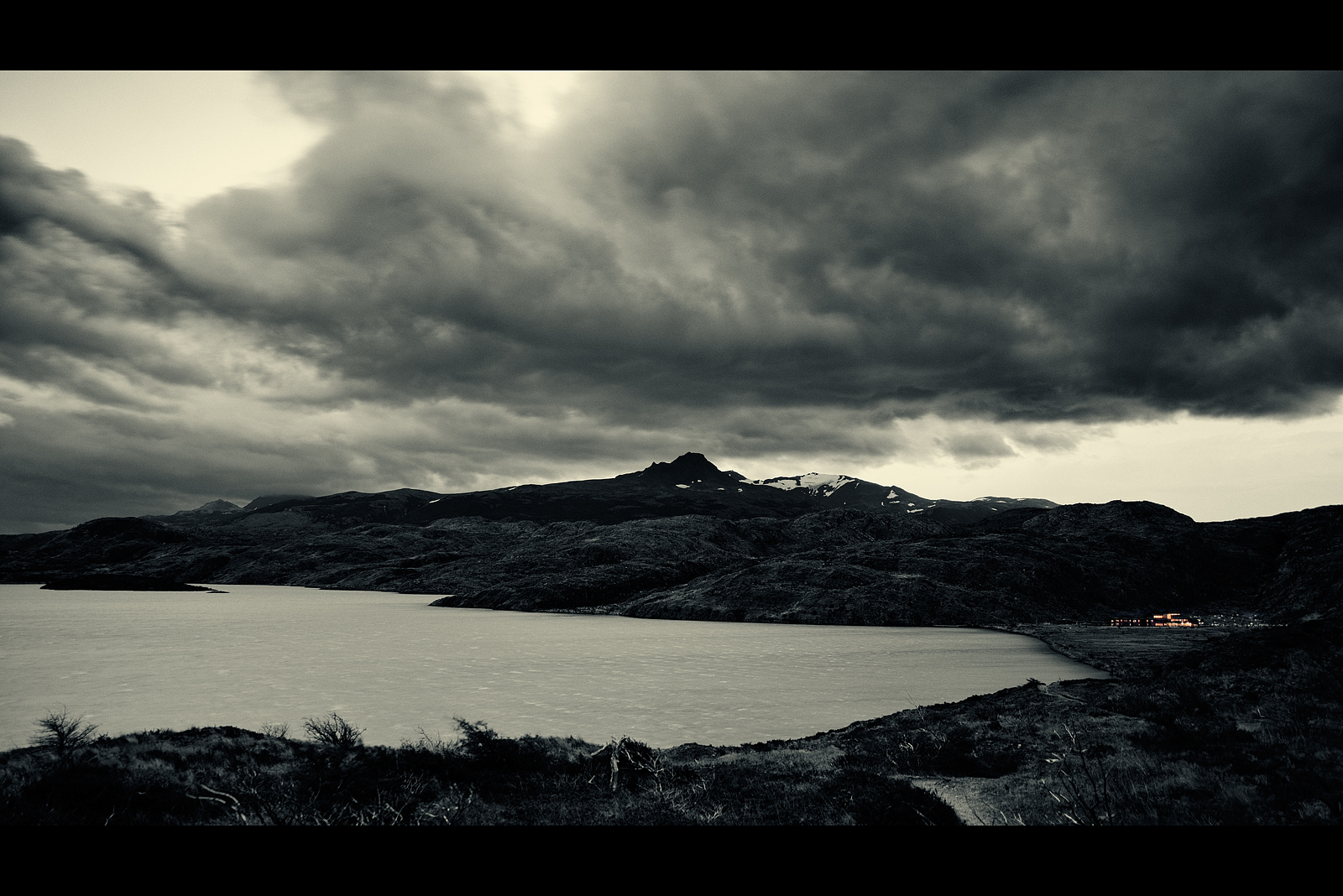 On the walk we learn the following story: the basic structure seems solid, but some of the facts maybe be a little mangled. There's these two friends growing up in southern California. The only thing they love more than surfing is rock climbing. The problem is, all their gear is terrible. And so they buy a forge and an anvil and start making better equipment. Before long, they're running climbing courses, teaching people to climb the north face of Half Dome, Yosemite.  At some point they realize that not only do they need better climbing equipment, but they need better tents and clothes. So they start making those too. They love the environment and decide to pump profits from their new businesses in to environmental activism. The two companies they founded are known as Patagonia and North Face, and between them, they now own millions of acres of Chile and Argentina. And the locals hate them for it.
As a visitor, it seems they're doing what the governments have failed to do. They're building national parks (the land has all been gifted back to the people) and protecting the planet. The locals think they're stealing the water and building a new Israeli state.
As we approach the refugio we're passed by a nice lady with her 70-year-old mother, dragging a roller bag. A freakin' roller bag! We ask her if she knows what she's doing and she laughs. Later that evening over a dinner of chicken and sweet potatoes followed by lemon custard, we learn that they made it all the way to Refugio Frances. We're not sure we could have done that.
Refugio Grande is nasty. It's big. The camping is out of control. The lines for food are long. There's no wi-fi and no charging points. Because of all the day hikers the toilets are locked during the day. It's a place under siege. Our room is nice though, and only sleeps 4, and they don't care about the tax. Oh, and there's a bar. A real proper bar. The cocktails are terrible but they are cheep, so that's nice.
After dinner we head outside for a quick hour hike to try and capture sunset on the Cordillera. The wind has picked up to dangerous levels and it's very hard to walk. As we leave the compound we're stopped by a park ranger. He doesn't speak English, and we don't speak Spanish. He's either trying to make sure that we're not going to camp illegally on the trail, or he's telling us to get inside because of the weather. Either way, after 5 minutes of shouting at each other over the wind, we're on our way to capture the setting sun. It's already dark from the storm clouds.
Arriving at the spot we'd picked out earlier, the wind is dangerously high, so we duck off the trail and spend a pleasant 20 mins lying in a field 300 meters off the beaten path. The silhouettes of two people crest the nearby hill and we watch them walk towards us. Suddenly, one of them is picked up and thrown 2 meters and down a bank. We think of going to her aid but she (as we later find out) rapidly re-appears and her and her friend spend some time milling about. Eventually they wander off.
Sunset doesn't happen so we pack up and head home. Very quickly we come across the two girls. They're moving really slowly. We ask if we can help and they explain that one of them lost her glasses when she got blown over and now can't see a thing. Add to that, they're wearing just flip-flops and it's now dark. We walk with them to camp. All the time, the wind is hammering and threatening to wipe them out again.
Back in the bar all is right with the world. We slam whiskey to calm our nerves and share strange tea, out of oddly shaped cups with a bunch of locals. All in all, a fine if slightly dangerous evening.
Day 6
Over a breakfast of scrambled eggs and toast we learn that today's winds are pushing 60mph. Yikes. Today is to be the biggest hike of the vacation. We're planning on doing about 14 miles up to, and around, Grey's Glacier. This glacier is the southern most edge of the 2nd largest non-polar ice sheet in the world. And it's shrinking fast.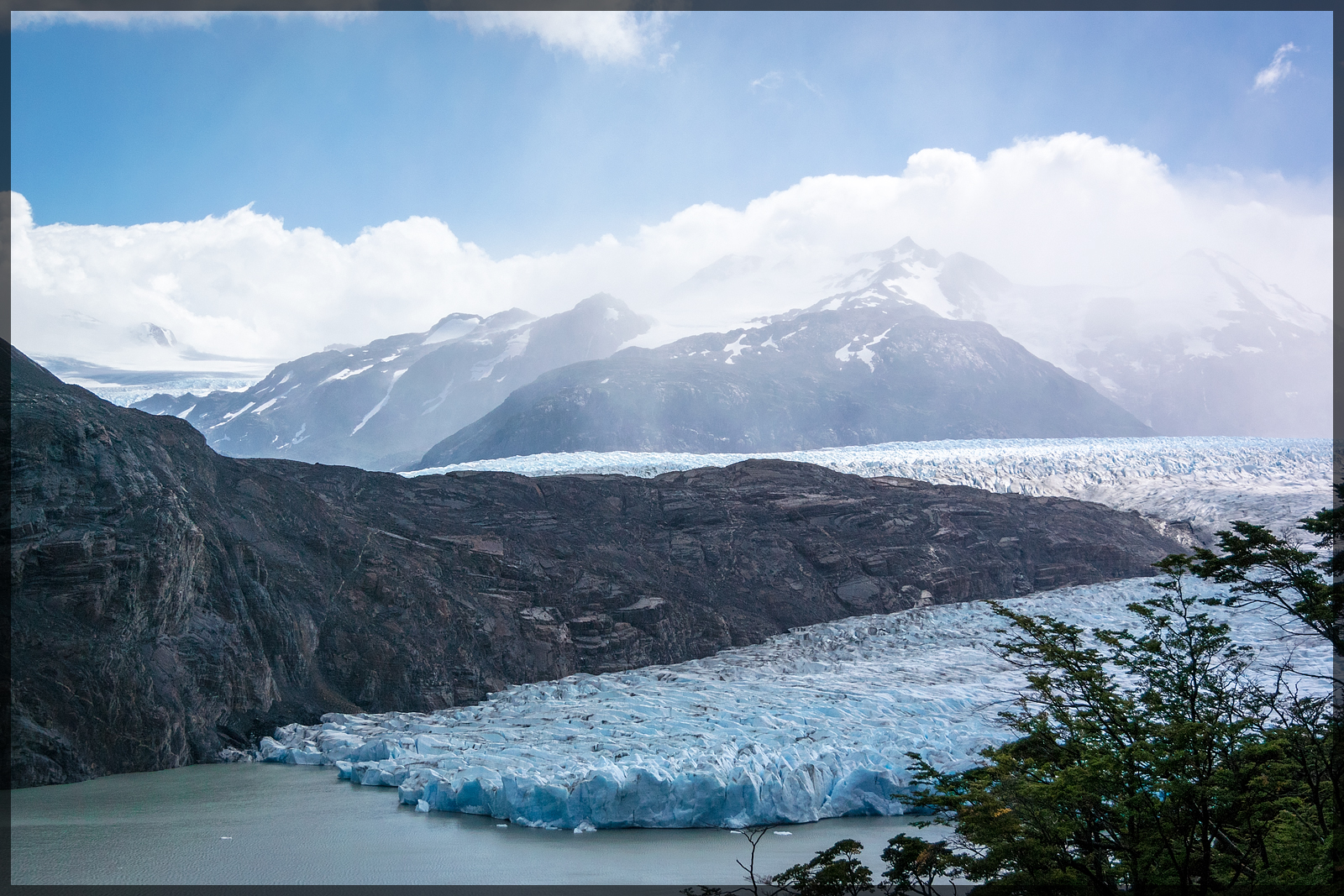 Of all the hikes we've done during the last 6 days, this is the best. Wind aside, everything about this is amazing. There's fields of flowers, forests, streams, forests of flowers, raging rivers, icebergs, and of course, the glacier. The wind is only an issue for a few miles over the peak of one of the hills, otherwise hiking conditions are perfect.
We arrive at Refugio Grey early afternoon and it is perfect too. There's no wi-fi and no charging points but our room only sleeps 4, there's a bar and even a masseuse. It's tax free again!
We had planned on kayaking around the icebergs this afternoon, but there aren't any. The glacier hasn't shed recently, and those few that are around are too far to canoe to. Instead we walk as close to the glacier as can get and become terrified by the hanging bridges.
Later that evening, following a fine dinner of chicken with linguine followed by lemon tart, the bar turns in to pick-up joint. There's a singles party here and they're all trading rooms on the promise of an interesting night. We make our excuses early and turn in.
Day 7
At around 2am we head out to capture the glacier under the full stars. There's a few clouds about and the wind is still crazy. We would have liked the Milky Way coming out of the ice but geography is a bugger, and the glacier is at the northern, dull end of the star system. There's no moon today until 8am and the sun is up at 7, so with no light the photo trip is a bust. The ice sheet, even to the relaxed eye, is just a big black mass against a lake of black. There's no photo here.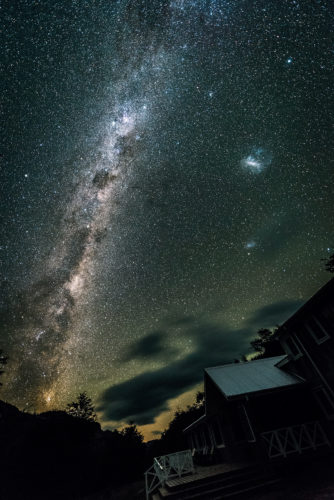 Just to prove we got out of bed we snap the stars over the refugio but we know before the camera has even clicked that it will turn out boring. Back to bed for us.
We have an early start today. Our boat out of the park leaves at 12:30 and based on yesterday, it's 4 hours walk away. The kitchen is a disorganized mess. It seems the staff slept in (quite right too!) and so we just grab coffee and hit the trail. There's little wind, little heat, and we have the trails to ourselves. This hike is as glorious today as it was yesterday. We make it in 2.
Back at Refugio Grande we celebrate the end of a great hike the way you're supposed to: we have a beer. It's 10am after all.
Our plan was to wander down to the boat about 12 in plenty of time for the sailing, but word around the camp was that we need to be there sooner. So we line up at 11 and fall asleep. At 12:40 the boat pulls away. We're on board of course, but it's barely half full compared to the mess it was when it arrived. On the shore, 50% of those queuing with us are left behind. We've no idea why. We do know they don't look happy about it.
For 30 minutes we sail across the lake,  then it's on to a smelly coach for another 2 hour ride back to Puerto Natales and the Big Bang Patagonia hotel. As we leave the park we see lots of lama and even a few emus. It's strange but all the time we were hiking we never saw anything other than birds and a few rabbits.
Finally, back in Natales we treat ourselves to appropriately expensive Pisco Sours and fine food. This trip is over. Tomorrow we go home.
Day Plus 1
We rise early. Getting home is going to be harder than getting here. The plan is to take a bus to Argentina, fly to Buenos Aries, then to Brazil, then to Orlando and finally to San Francisco where a driver will be waiting to take us home.
The morning coach is once again a high-class air-conditioned ride. 30 minutes in to it we stop at the Chilean frontier post. Sitting near the front of the bus means we're off and queued up near the front of the passport control office. Once again, our lack of entry visa is an issue, and as punishment, we're made to go and stand at the back of the line. We kid you not. That's the official punishment for not having a visa – 'go to the back of the line and think about what you've done'. Very strange.
A quick 10 minute bus ride places us at the Argentinian entry post. It's a zoo of shouting sweaty people but is uneventful, and we're soon on our way. There's nothing to report for the next 5 hours. This entire coach ride is 6 hours long and during the whole thing, there's nothing but barren rock outside the window.
Early afternoon we roll in to the town of El Calafate, and it is lovely. It's almost South of France pretty. Tree lined wide streets teeming with bars, restaurants and trinket shops. There's no industry here other than tourism. The town is in the middle of the desert, on the edge of a lake and only exists as a stopping off point for people visiting the Argentinian Ice Sheet.
We have nothing to do, so we shop and eat and drink and just kill 3 hours before jumping in to a cab for the 20 minute ride to the airport. The flight to Buenos Aires is 3 hours, and so we find ourselves sitting in the airport lounge bar of Argentina's capital by 11pm.
Our next flight is not until 4am. What to do? What to do? We briefly consider going in to town for dinner. The Argies eat late but the town center is an hour away, and we're due on an international flight so we have to be in the terminal by 2am. That means we'd spend 2 hours in a cab for 1 hour in a bar.  Deciding it's not worth it, we order whiskey and settle in for boredom.
Day Plus 2
Bang on time at 4am the flight lifts off and we're on our way to Brazil. We're a bit concerned about this hop because we only have 90 minutes to clear immigration, grab our bags and board the US flight. We needn't have worried.
The flight to Belo Horizonte is just 3 ½ hours and arrives on time. This city is huge but its airport is basically a hut at the end of a field. We take the bus from the plane to the terminal and discover that we're at the back of the immigration line. We explain our time crunch to the supervisors and they say not to worry. After 30 minutes, a nice man comes to get us, wildly gesticulating that the US bound jet is being held for us, and ushers us to an immigration officer. This is great service.
And then it all goes wrong.
The immigration officer explains that while you don't need a visa to transfer through Brazil, because Belo Horizonte International Airport is so tiny, it doesn't have a secure transfer lounge, which means in fact, we do need a visa. He's very apologetic about this. It happens every day he says. It's all the fault of Argentina's State controlled airline he says. We've fined them $100,000 so far this year he says. But they keep sending people to us he says. Sorry about this but you need to go back to Argentina he says.
Interestingly enough, we do have a visa. Their computer shows that our previous Brazilian visa is valid until 2020. However, the actual stamp is in an old, expired passport that we're not carrying. No amount of shouting in to walkie-talkies (by the nice officer trying to help us) will convince his superiors to let us in to the country for the 90 seconds it's going to take to walk on to the waiting 747.
We head off to detention for 2 hours while they try and work out what to do with us. Outside on the runway are two 747's, one bound for Orlando, the other back to Buenos Aires. Both are loaded with angry passengers and both are waiting on us to be told which one to board.
The two hours pass swiftly. Our chaperone is named Wally and he used to live in New Orleans where he delivered vinyl siding (house walls) in the back of his Cadalac Escalade. The good news is that our power adapters are comparable with Brazil (we didn't have Argentinian ones) and so we get to recharge all our toys. We really wanted a selfie with Wally, under the detention sign, possibly wearing handcuffs, but it didn't happen. No sense of humor some people.
Eventually, we're escorted back to the Argentinian bound plane. We have no tickets and they tell us to sit where we want for the 3 ½ hours to Buenos Aires. People are glaring at us all the way and it gets worse on arrival when no one is allowed off the plane until we've been escorted to the awaiting bus. For the second time today, we go through immigration and enter Argentina.
We're now in the wrong country, and we have no tickets to get home. It takes 4 separate conversations with airline reps until someone finally understands that we're stranded and, for some reason that is still not clear to us, it's all their fault. We don't know why not having a visa is not our fault, but neither the Brazilians nor the Aerolíneas airline staff seem to think so. And so we're duly issued free tickets to New York, and then San Francisco on the next available flight. At 4am. Again.
It's early afternoon and we embark on a 2 hour bus ride around Buenos Aires to another airport, where we sit and stew until 6am. Yes, 6am. Our 11 hour-long, 4am flight is delayed by the amazing lightening show beating up the airport. It's very impressive and just a tad annoying.
Day Plus 3
We're due for a 6 hour layover in JFK, but given that we land 3 hours late, that's compressed to a more manageable 3. Once we've cleared immigration, gathered our bags, changed terminal we only have 60 mins to spare. A quick beer and we're… Delayed again, by another 2 hours.
Eventually we do arrive in San Francisco (another 7 hour flight) and our car service drops us home at midnight, exactly 30 hours later than intended. The smell is awful.
Go visit Patagonian. You'll love it.
Thank you for reading.