Here's our crazy idea. Let's take a picture that's never before been done. We'll start with photographing the entire visible Milky Way, from the bit where it hits the Earth in the south, arcing all the way over to the bit where it hits the Earth in the north (bloody great example here ) . In the foreground will be a burning Jeep, and sat atop that, lighting a cigar from a ball of flame held in his outstretched hand, the photographer.
How hard could that be?
All we'd need would be total darkness, somewhere hundreds of miles from a city, and probably somewhere wet just in case the fire gets out of control. After a bit of searching around, Crater Lake, Oregon presented itself as a suitable candidate. Most of the touristy hangouts are closed for the season, along with the road around the east side; with the west side road open to 4-wheel drives only, the place seems perfect.
And so the epic adventure begins.
Checking the webcams the morning of departure presents a surprising image, snow is hammering down a week early. Still, that's why we have snow tires on the truck. After 2 hours of travel Siri said the worst thing she's every said to us 'head north for 293 miles then make a slight right'. Apparently Oregon is quite far from San Jose.
The journey is dismal. Traffic, roadworks, hammering rain, fog and of course snow. We arrive in Union Creak a mere 9 hours after departure and it is beautiful. No snow, crisp air, big clear star full skys and tall, tall redwoods. After checking in to our cabin we head the 40 mins up the mountain to this crater thing. Approaching the rim the weather gets worse, there's snow everywhere and really low clouds. Visibility is at a minimum and worse still, they've closed the west road. There's no way of getting a Jeep anywhere near the crater, and no way of seeing it even it we could. Making the best of a bad situation we spend 30 mins donut-ing the Jeep in the snow and generally having a bit of a lark.
Back at the cabin we're again greeted with big skys and tall trees. We snap a few star trails and head to bed. It's midnight and the alarm is set for 5.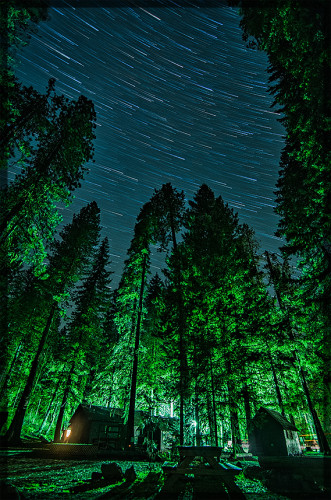 It's 9. Never trust hotel alarm clocks. We've missed the sunrise and so with no time constraints we eat a hearty breakfast and slowly wind our way back to the crater. The nice warden explains that the road is going to be unexpectedly closed for another week and so all our plans are dashed. As we prepare to sullenly leave he mentions that it's a pity we're not backpacking because tonight is a rare occasion, there's a very high chance of seeing the Aurora Borealis. Quickly making new plans we decide that backpacking is the only real option, all we need is sub zero survival equipment. The nearest town is almost a hundred miles away but with no other choice we drive in and go on a spending spree.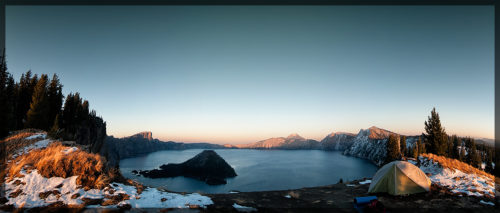 By 7pm it's totally dark at the crater's edge. The temperature is stupidly low but we have our new tent, super warm sleeping bags, and all we now need are for lights to dance in the sky.
At 9 we finally spot the Milky Way. According to all our planning and prep work it should be filling the sky from SSE to NNW but the damn thing is almost east to west, which means we're pitched in the wrong place. And it's big. Really, really big. Much bigger than the crater-spanning star-bow shown in Ben's picture linked above. This trip is a bust.
After an hour of failing to capture the heavens we retire to bed to watch a movie. Modern technology is amazing.
Just after 2 the alarm awakens us in time to watch the moon rise in to the night sky. As we stumble out of the tent, a sight of pure terror greats us. It's white. Everything is white. The tent is frozen solid. The tripod is an icicle. And the poor camera; the camera looks like a snowball. The controls are frozen. All the surfaces are white. The lens is a sheet of thick ice. But the damn thing's still clicking away. I've no idea how Nikon make these things so resilient. Every surface is covered in thick ice and yet somehow it's still working. Of course, the pictures are rubbish. Damn you to hell Jack Frost.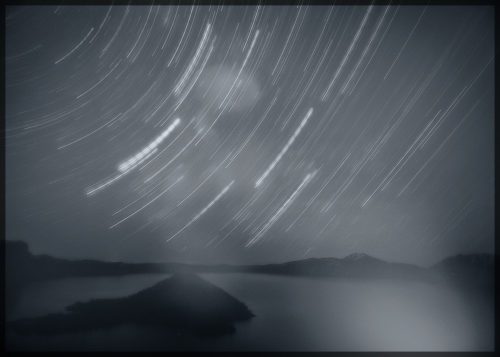 Time to pack up and hike home under the magnificent moon light.
Back at Union Creak we're too tired to sleep so we decide to try that Jeep burning thing just so we can say we achieved something.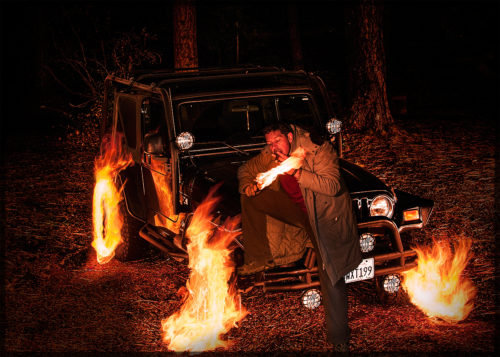 The sun is coming up soon. It's time for bed. Tomorrow we head home.
Total miles traveled 1034.
Total Milky Way pictures 0.
Total Borealis pictures 0.
Total star crater pictures 0.
It's a bust people. It's a bust.