We were delighted to be invited on a sleep depriving, dust breathing, 4 day shooting marathon in California's Death Valley. This post documents the ordeal and showcases, what we're sad to admit, are less than stellar photographs.
Day 1.
We arrive in Las Vegas as the light is fading. Not bothering with the lights, glamor (sic), and allure of 'the strip' we grab a hire car, stock up on things they won't allow on airplanes (mostly burning things) and head north to the Valley of Fire. Our guide for the trip, Eric from Star Circle Academy, has an image in mind to help kick-start the journey. And so we stand amongst the swirling dust, and the baking night-time heat until almost midnight, capturing this terrible circle.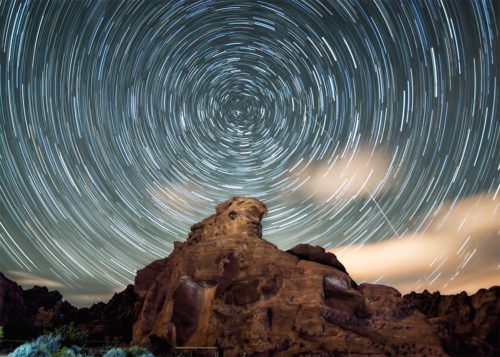 The car ride to this location takes us past a Nevada oddity – a gas station that specializes in fireworks. The big, loud, industrial kind.
With all the campsites packed to capacity, we follow fire-roads randomly, heading deep in to BLM (Bureau Of Land Management) property where we can safely pitch a tent away from any local wildlife. Around 1:30am as we're about to turn in and finally get some sleep, the wildlife finds us. Two hundred yards away head torches bob over the tumbleweed and fireworks paint the night sky. It's way too windy to photo the scene so instead we just stand and watch and try not to be noticed. After an hour or so even the locals have to sleep and so the side-show ends. Everybody grabs some zees.
Day 2.
The alarm wakes us at 5, giving us plenty of time to moan, groan, stretch and drive back to the heart of the Valley for what will hopefully be a spectacular sunrise. We arrive in time to watch the night-blooming desert flowers close under the unrelenting rays of first light, and the rocks to momentarily burst with color.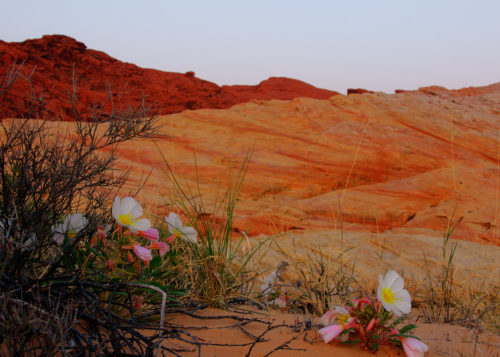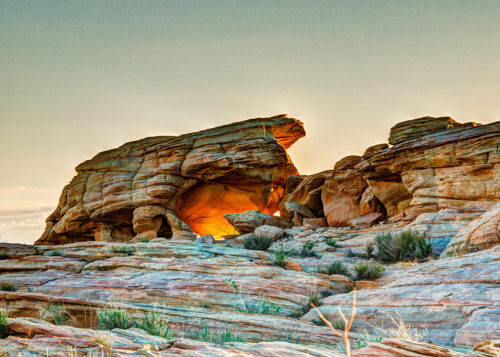 Sunrise happens. It's not spectacular but at this point of our trip we're keeping the bar on awesome set pretty high. We wander off and look at the 2000 year old petroglyphs that frankly make little sense to our uneducated minds.
Driving back to Vegas we stop at the Iron Skillet for a much-needed breakfast. For those in the area, this place is a revelation. Sure the foods nice, but what are we to make of the fact that this gas station has two restaurants, 2 shops, a donut area, laundry facilities, showers, AND ITS OWN MOVIE THEATER! Only in America…
The drive to Death Valley has begun, but no journey is complete with out its side trips, and so we call in to Red Rock Canyon. The visitor's center is a marvel. Showcasing the indigenous species, they have a huge tortoise viewing area. As we approach we can hear what sounds like a child repeatedly saying "Oh Oh". There's no pictures to back up this claim but believe us when we tell you that when a male Tortoise is taking a female from behind (presumably the only position available to ones who carry a house on their backs), they shout "Oh Oh" over and over again. This one side trip is going to keep us in jokes for years to come. Amazing.
We arrive at our hotel in Stove Pipe, deep in the heart of Death Valley at 2pm, having stopped a few more times to scout sunset locations. At 5pm we head out to Zebrinski's Point to watch the sun go down.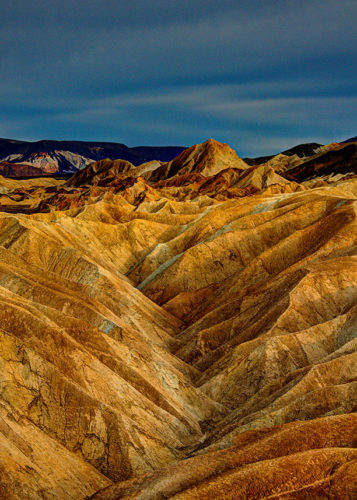 The sand dunes come alive in the setting sun, but the sky does not. This is Eric setting up for his night shots.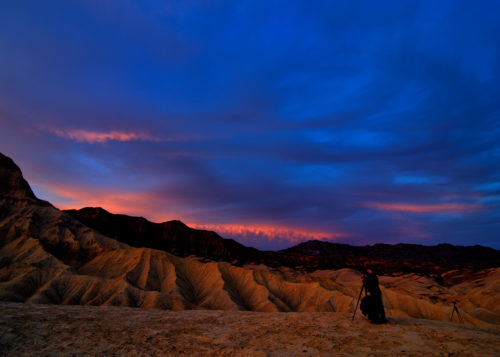 We walk for 45 minutes in the fading light, bobbing and weaving through dunes higher than a 6 story building, and finally arrive at a place that showcases the famous 'point', and allows our cameras to face north. The sad part of the story is that from this angle the point is just another mountain range. Ho-hum, lesson learned.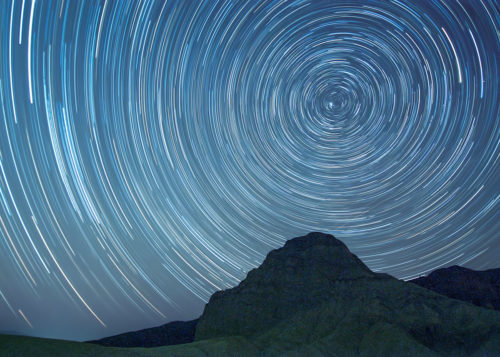 We head back to the cars just before 11, quickly realizing that if you can't see your hand in front of your face, there's no path, and no visible landmarks, you're truly wandering the desert without a guide. After what was probably a 90 minute hike we finally stumble upon the cars, and thirstily drain water bottles and chew on oranges.
The night is young, and so, refreshed, we head to the now closed (for the day) Gypsum Works and spend a while light painting the famous wagon train.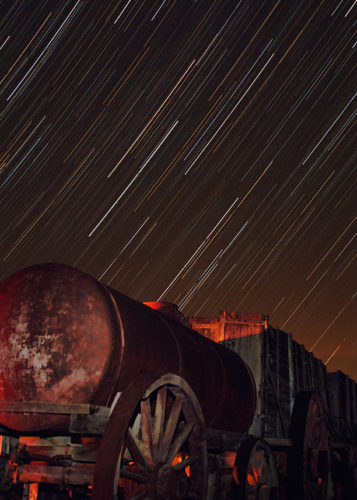 Bed calls, and we hit the sack at 2pm.
Day 3.
Another 5am alarm elicits more moaning, groaning and stretching. Never has coffee tasted to good, or been so needed. This is going to be our 2nd attempt at catching sunrise, and based on the lack of clouds we're lowering our bar of expectation. We head to the local Mesquite Sand Dunes and wait patently.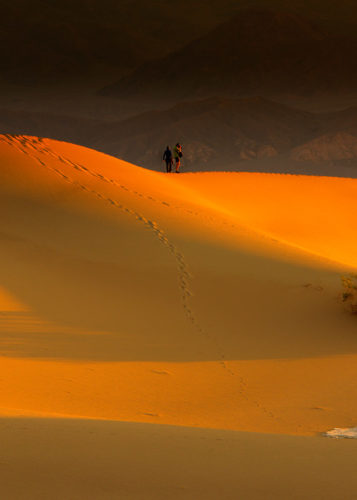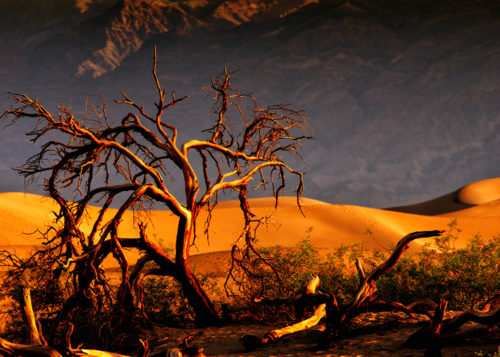 When your day only consists of sunrise, sunset and stars, finding something to do during the day is taxing. Sleep would be nice, but with no hotel it's out of the question. We drive to Scotty's Castle, and are disappointed to learn it's not Star Trek themed.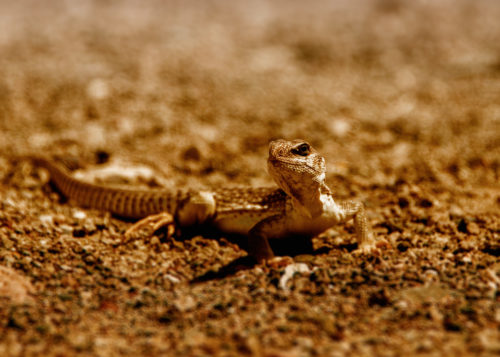 Lunch is served on the lush lawn, by a babbling brook, completely out of character with the surrounding desert.
The drive to the trip's highlight begins, The Racetrack is our next schedule overnight. On the way we stop 3 times. The first is to briefly marvel at Ubehebe Crater. The wind is too high to do anything other than peer and then run back to the car.

The next stop is simply to smell the flowers. People always assume that deserts are lifeless barren places. Nothing could be further from the truth. The colors, the diversity, the life, it's all mind bendingly stunning. As we sniff the blossoms, 3 jet fighters from nearby Nellis practice their dog-fighting in the sky above.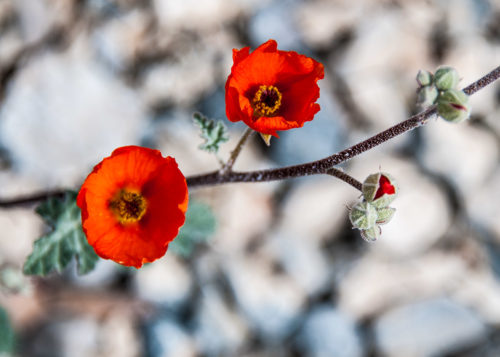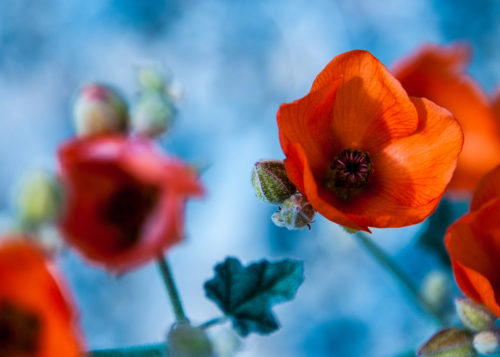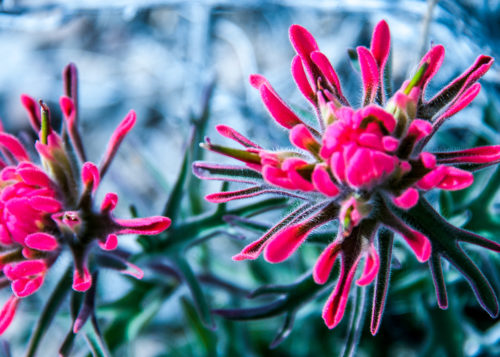 Arriving at the famous Tea Kettle Junction we turn left and head to the lesser known Lost Burro Mine. The road here is strictly 4 wheel drive, which is a tiny problem given that even though we'd reserved, booked, and paid for a Jeep, we're currently driving a GMC PieceOfCrap(tm). In fairness, this 2 wheel drive tank served us well during the odyssey, except for this one side trip. The road to Lost Burro hangs precariously on the side of a steep hill. It dips, twists and turns in a way that a road shouldn't. Within yards of starting we ground the car twice. Vowing not to quit we drive on. This time driving on the dangerous, loose, edge of the road in an attempt to avoid the craters that have formed on the main path.After 2 screaming miles, the car finally stops dead. The front scoop has splintered and wedged against a large boulder. Backing up and trying again, we're grateful the airbags didn't deploy. This would be a good time to turn around and call it a day, except the road is slightly narrower than the car (yes you read that right) and there's no turning. Briefly, we consider doing the whole thing in reverse but that idea is nixed when 4 souped up Jeeps slide to a stop behind us. Trapped, we forge on. Half a mile from the mine, the road widens and we call it a day, allowing the off-road vehicles to pass and taking to foot for the final assent.
The off-roaders are superbly friendly. They show us around their tricked out vehicles and generally make nice with us poor 2-wheelers.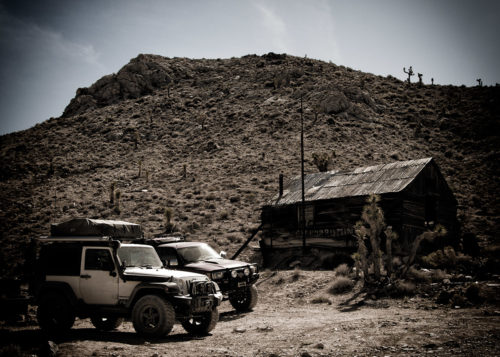 Of course, there are keep out and danger signs everywhere. Ignoring them we explore a few of the tunnels and come across the strangest things. It's all to dark to photo so trust us, tunnel walking is exhilarating.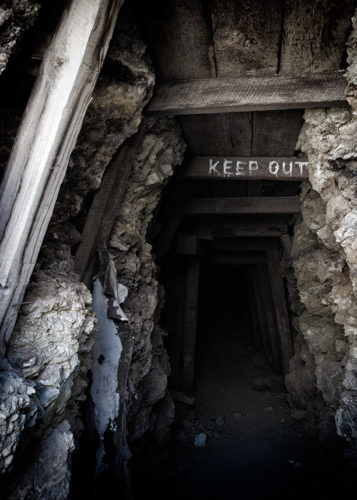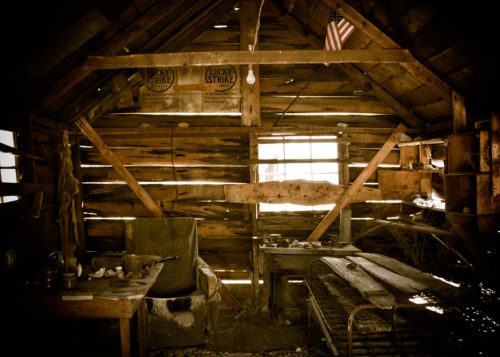 Finally, as sunset approaches we arrive at The Racetrack, where we meet a nice chap reviewing survival equipment and taking photos of it for his magazine. His verdict is negative, so we won't be buying what his magazine is being paid to sell. Sunset is once again a disappointment so we take of in pursuit of the only toilet for 40 miles. When we find it, we wish we hadn't. We've never seen a Portapotty where the excrement towers in a beautifully (?) sculpted pyramid above the actually seat. One to avoid next time.
Eric has a big brain moment and we run around the massive (1 mile wide, 4 miles long) Racetrack GPS tagging all the interesting rocks and grooves before the light fades for the night.
This whole trip is about this one photo.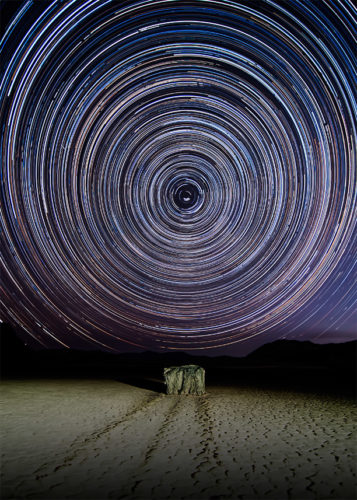 You're looking at a mysterious moving rock of Death Valley's Racetrack captured as it heads north under a 5 hour sky.
Before we made this picture however, we had some other fun. Using a very special filter that only Eric knows how to construct, we photographed the actually electrical coronal discharges that are speculated to move the rocks. We believe this might be the scientific breakthrough of the year but have yet to hear back from the Nobel committee.

We also threw some steel wool around, being careful not to leave a mess of course.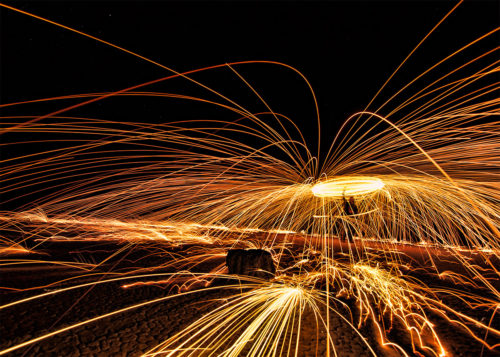 Oh, and we burnt some other stuff.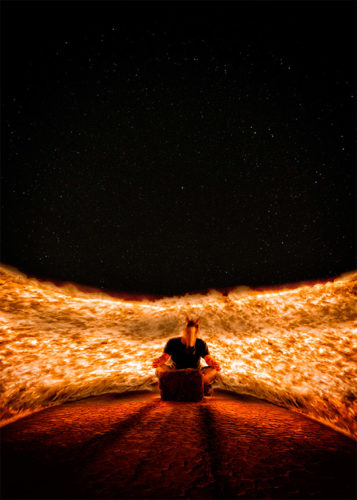 And finally, we invited HorseHead to contemplate his life.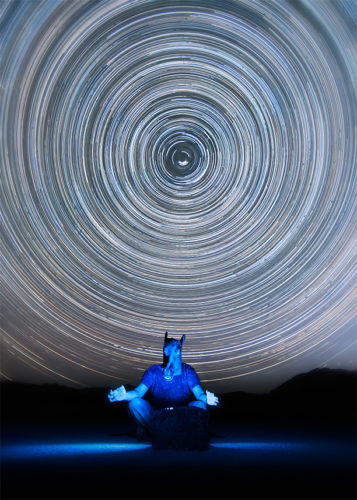 Day 4.
A brief moment of sleep was snatched snuggled up to cameras on the playa, as scorpions scuttled just out of sight but not out of hearing. Once again arising before dawn, we huddled for warmth in the car as the sunrise failed to happen for the 3rd time, and then the great hunt for breakfast began.
Rolling in to Furness, we chatted with some nice blokes that were test driving new GM cars. To stop people photographing them, the cars were covered with camouflage stickers. You've never seen anything draw attention like a black and white camouflaged car. The rest of the day was spent exploring Devil's Golf Course, Bad Water and the amazing Artist's Palette.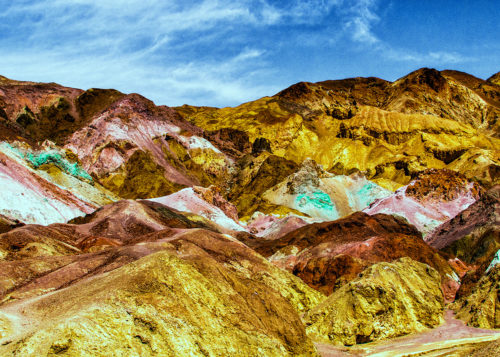 Later that day we again met the test drivers, only this time they were in the store buying gallons of coolant. We think it's safe to say that the experimental GM car failed its road test. An hour later and we're at the Charcoal Kilns. It's considerably colder, there's no ambient light, and no moon light, so we struggle around in the total darkness. With walkie-talkies allowing us to shout directions at each other we try to restart the kilns one last time.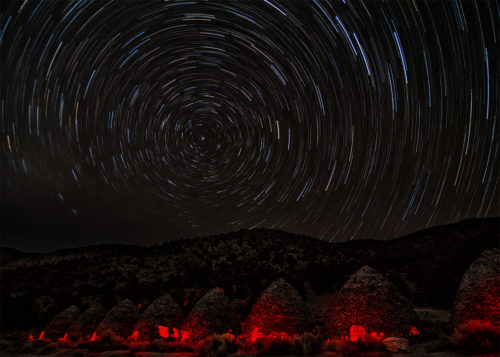 We finally have an early night, getting to bed just before midnight.
Day 5.
The 5 am alarm still hurts as it rudely awakens us to total darkness. During the night a storm has blown in, there's sand everywhere and no power to be found. Hotel guests stumble around in the murk, as we once again head to the Mesquite Dunes for sunrise.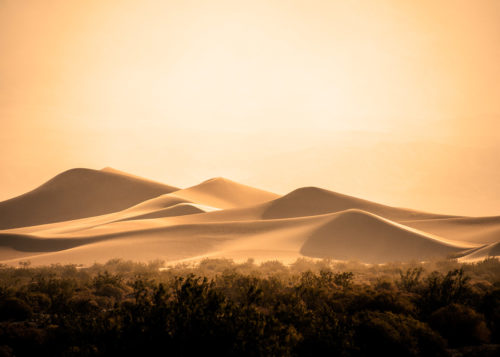 Returning to the hotel, the manager tells us to "get the heck out until Wednesday". There's a 95 mph storm coming he says, head north-east he says. Wasting no time, we pack up and head south, back to Vegas. This was the going home day so we're loosing nothing.
We stop one last time at Red Rock Canyon, and learn that the humping tortoises are actually both female, and the "oh oh" shouting one is simply trying to be the king by humiliating the smaller one. Animals and prisoners apparently have a lot in common.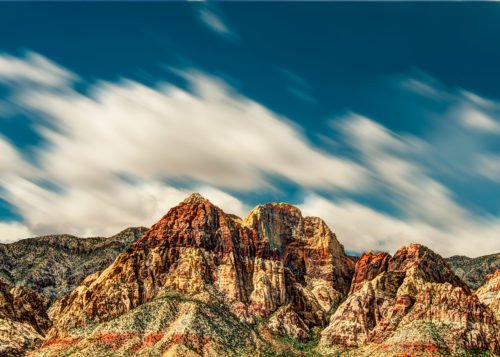 And then it's all over.
Thanks for reading.